Ok finally got a few moments to get this blog up! PHEW its Tax,payroll and ballot week and to say the office is busy is an UNDERSTATEMENT!! But we had a fun little weekend and I wanted to share Ü
Monkey Boy came to see his grandpa while he was home. He was relly digging grandpas "noculars" I cant belive he is going to be 2 tommrow WOWSER time flys!!
Saturday was Instalation of Officers for Emblem. So being on that committie I got to get the lodge ready for dinner. Sue picked "Stick with Emblem as her theme this year and her pin is a Gekko Her colors are red,white and black So that was what we rolled with! Bea and Char made all the napkins and I had the easy job of making the name cards and getting the decorations. SWEET and super easy we had it done in a hour and a half!
Now this is me in my decorating crown. One must have a crown for every event. Ok I look freaken scarey but hey I had to move alot tables and chairs people!! ;op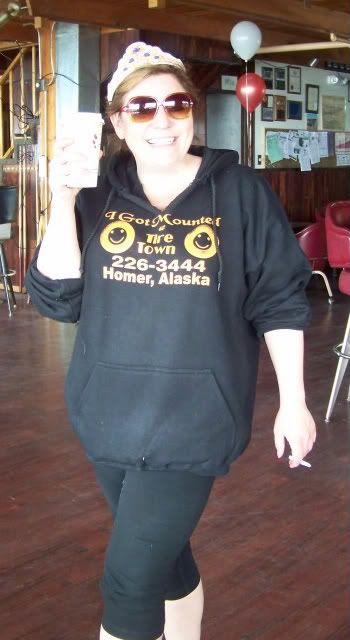 Tink stloe my crown BOOOO!!!!
While I was relaxing before the night ahead the girls were getting there night of ROCK BAND set up and even dyed the Easter eggs !!
Here is "Hydrophonic" and "Bama" warming up the insterments.
Tink and "Bama" feeling there inner bunnys!!
Here I am enjoying a glass (ok maybe 2) of Champagne before Penny,Dee and I left for the night. Yes I know thats the wrong kinda glass but I was too lazy to find the champagne glasses.
Sue asked me to be her Marshell for the year so here we are taking the closeing walk.
Here is Cobbs and A D D Girl on the left and Mike and Ducky on the right. They swung by the lodge to show me there Prom clothes. Dont they look pretty???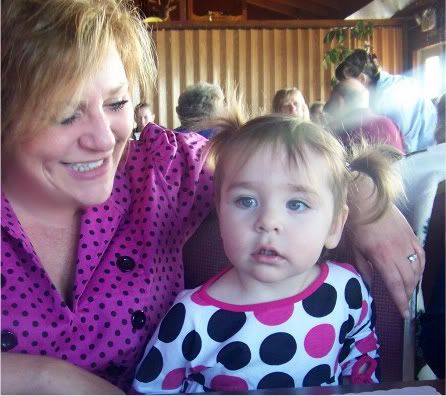 YAYAYA its The Future Glitter Queen and I at Easter Breakfast. She is so darn cute I cant stand it! Her fancy Easter dress fell apart. (boo) But I think this polka dot one is cute too!
The teens even OFFERED to be in this picture! Cousins enjoying the Easter Bunny!
But not as much as the COKE MACHINE enjoyed the Easter Bunny!! She kissed him and left a black mark from her nose on his cheek he would NOT let me wipe it off. LOL!!
Later in the afternoon Tink and I hit the beach with my sister and her son and went for a walk flew a kite and blew TONS of bubbles!!!
Kite High in the sky!! What a GREAT DAY!!!